Big Brother 16
Week 2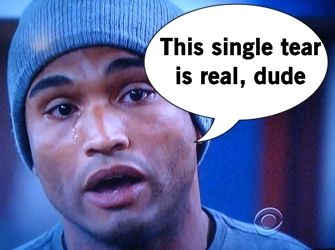 Thanks to Cody's slip up, Devin is now one of the HOHs this week and everyone inside is moaning. Even the Bomb Squad is only half relieved because Devin is such a loose cannon in this game. His erratic behavior begins with an apology to Donny for making wildly inaccurate judgements about him, followed by a house meeting to declare his desire to play the game with integrity. But he's OK with getting eliminated as long as people like/respect him. Akward claps around from the houseguests! Except The Bomb Squad is upset with Devin claiming responsibility for Donny's nomination, because the HOHs (Caleb and Frankie) used the excuse that it was people who fell first in the competition. But the blame Devin assigns is to Brittany for "misconstruing" his words. Oh Devin, STFU.
Desperate for a showmance to happen that is less creepy than Caleb's obsession with Amber, we get a feature on Hayden and Nicole's flirting. Nicole would rather bring Hayden into her alliance with Christine, who is hesitant for a half second before deciding the weirdos should stick together. If anyone's getting some cuddle time in, it's apparently Caleb and Devin who want to be held and accepted. A real bromance happening here. The best bromance? ZANKIE (or Zrankie as they called themselves). Zach and Frankie are the cutest couple, even if Zach is straight. They cuddle, hang out, dance - it's adorable.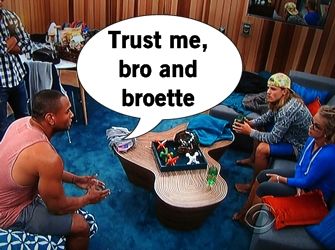 Amber and Devin meet to discuss nominations, as she's uncomfortable putting up only girls as it makes he look like a beyotch. Devin would like to nominate Pao Pao and Brittany, hellbent on taking out Brittany. Amber won't put up Donny, which leaves her with Hayden as the only other guy who isn't in the Bomb Squad. Putting up a Bomb Squad pawn is risky, so Amber has a crappy choice ahead. Devin is first to nominate and goes ahead with his gut choices, Pao Pao and Brittany, citing Brittany's nomination as a personal thing for questioning his integrity after one of his dumb speeches. Amber nominates Nicole and Hayden because they are strong players and her options are limited (since she's in an alliance with seven other people). Control freak Devin assures Hayden/Nicole that they're safe, convincing Pao Pao to throw the Battle of the Block (with more promises of safety). "Trust me," Devin says over and over because he apparently in BB god.
The BB rager from the earlier HOH competition has been ransacked and it's basically the end of the night from that frat party. Jello shots, trash everywhere, a keg in a kayak - it's pretty cool. The competitors take seats in some recliners and get ready to compete. The Big Brother art department makes some absurd photoshopped photos of the alleged party from the night before, sort of like the end of The Hangover. The first team to correctly answer four questions correctly in "We Did What?" overthrows their HOH and gets safety for the week. The pictures scroll so fast so downing the Jello shots isn't a wise idea. Wrong answers also include punishments like beer goggles, cannonballs, a leaky beer helmet, and drinking a nasty hangover cure. Hayden and Nicole win the Battle of the Block, dethroning Amber with some neon pink goo. Devin remains HOH, but Brittany has no plans to let Devin bulldoze her like the other lemmings attempting to pacify him.
Everyone is tired of Devin's power trip. He acts like he's god making Pao Pao throw the veto, like he personally saved Hayden and Nicole, and now he wants to end Caleb and Amber's flirt-mance since it interferes with the Bomb Squad. Said alliance thinks Devin is volatile and hurting their game, especially having to take out a personal target instead of strategic. Caleb confronts Devin about the nominations impacting the alliance and they get in a bro fight, with Devin ending the alliance. Caleb later visits Devin in the HOH room to make amends and get the Bomb Squad back on track. But Devin is really taken aback when Caleb mentions members of the alliance wanted to nominated Devin next week. Alliance meeting called! Devin claims it's not a dictatorshop and Brittany is a strong player who needs to go, keeping floaters to help the Bomb Squad stick around. Zach gives his opinion which is Pao Pao is weak, but he would prefer to be stuck in this house with Brittany. Devin isn't pleased with this so Zach tries to do damage control, but Devin's trust is broken.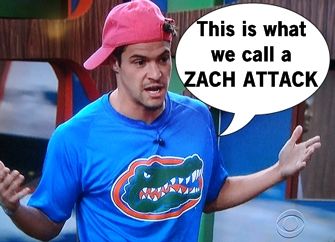 But the veto ceremony isn't over! Brittany stands up and declares that Pao Pao is her target because she threw the competition, intentionally throwing Brittany's game. Pao Pao denies throwing it, which is even worse because it means she's
that
dumb, then Devin reminds her she was guaranteed safety if she threw it. Zach decides he needs to talk to and goes HAM. He calls out Frankie as an unsure ally, Caleb too, says Pao sucks, Devin is a liar, and Zach is sure he has the votes and plans to target Devin when he stays. He mocks Devin for his speech about his daughter, and Devin puts on that big uncomfortable grin again. This sends shockwaves throughout the house. The Bomb Squad hates Devin betraying the alliance, Caleb has mixed feelings in his glassless hipster glasses because Devin betrayed the alliance yet Zach name-dropped him, and Frankie loses trust in Zach after being put on blast. Pao Pao and Zach get into a fight about the comp throwing and making himself a bigger target.
and
a person who isn't coming after any Team America members. Derrick's amazing at this game and slowly begins to get the others on board to keep Zach and eliminate Pao Pao. Frankie is playing all sides though and figures telling Devin (but blaming Caleb) will earn him some brownie points.
Fast forward to the houseguests on the couches talking to Julie, who's showing a little shoulder tonight. Pao Pao's final speech cracks me up when she says Devin "has five personalities and they all suck." Her rambling speech is cutoff by Julie, who is likely appalled by Pao Pao's goofy 90s outfit. Pao Pao is voted out in a 10-2 vote with her butt cheeks barely covered by her acid washed shorts. Asked by Julie about throwing the Battle of the Block, Pao Pao 50% tried to win, 50% tried to fail. So you're just terrible? She's routing for Donny and Jacosta, her house besties, with Donny's goodbye video bringing her to tears. An adorable, unlikely friendship!
Jaws
and
Sharknado
. Adorably all the obstacle loops are tentacles. I love challenge themeing even if they're super low budget; it makes them attainable. Nicole gets the highest score and is HOH #1, with Derrick grabbing HOH #2 with his score of 28. This should be an interesting week but more importantly, will Devin be nominated straight-up or backdoored?